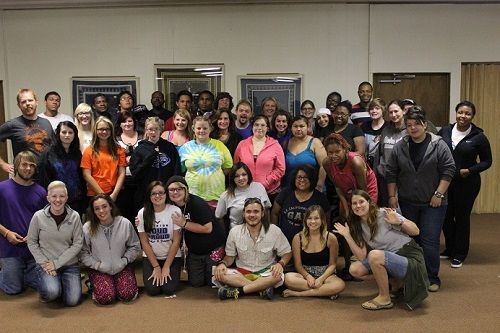 This year the Norfolk council car pooled with Fremont council. And if it says anything at all about how much PEER changes you, in just 3 days it changed Fremont's shy little council into a bunch of chatty kathies. We went from reading the whole way and terrified to say a word to singing along to Justin Bieber on the way back.
This year was so much fun after seeing everybody from the year before, it was great seeing how much everybody has grown and come out of their shells. Since last summer PEER, everybody has gotten to know each other and become comfortable expressing themselves (which makes it a whole lot easier to talk about Project Everlast biz and such) I also met a lot of new people that I can't wait to see next year.
This year we also got the pleasure of Matt, Michael and Emi's company. The 2 classes they 'hosted' were transitions from youth to adulthood and strategic sharing. My favorite had to have been the Transition class. We made posters about goals of the future. And I hate to brag, but my little box car for transportation was magnificent!! (: But on the serious side, getting the transition book will really help. The book they gave us had a lot of resources that will actually help in the future. There are sections about Permanence, Finance, Transportation and Identity.
But don't get me wrong, the strategic sharing class was just as excellent. That's when we learned about different audiences and how to present to them. We came up with detours when asked a question you don't want to answer, which will be really helpful in the future. They taught us to generalize or politely escape. The thing I liked best about the class was the Red, Yellow, Green game. What we did was go to either the red, yellow or green poster depending on whether you would feel comfortable answering the question. I learned from it that I need to mature more in being able to effectively share my personal story.
Another favorite was riding on a boat for the first time. And wiping out on the tube with one of my council members. Let's just say, I don't think tubing is a likely profession for me in the future. (:
But out of all of that, my favorite part was the trip home, aside from singing along to Justin Bieber and Katy Perry. On the way back to Norfolk, we stopped at Runza and it was by fate that we met an older couple from Virginia who happened to be fostering to younger kids. I really teared up when I saw the 13-year-old they had taken in. They told us that his brain stopped growing before he was born. And it was so touching to see the dedication, they have had him since he was 10 days old. I can only say it was a moment I will not forget