Lauren Ward, Assistance Vice President of Trafficking and Violence Prevention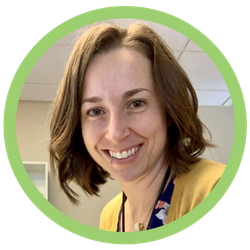 Lauren joined Nebraska Children's Connected Youth Initiative team first thing in 2021 as the Assistant Vice President of Trafficking and Violence Prevention. She serves at the helm of the Support for Youth Victims of Human Trafficking in Nebraska project, coordinating statewide community-based efforts and identifying strategies to support children, youth, and families impacted by human trafficking, sexual or domestic violence. This project seeks to build and maintain a comprehensive and collaborative response system as well as prevention strategy that enhances well-being and outcomes for child and youth victims of sex and labor trafficking.
Lauren has served around issues of violence and crime victimization since 2002 in roles with focuses on survivor advocacy, prevention initiatives, and program development/enhancement. She earned a master's in Women's Studies from Florida Atlantic University and has two undergraduate degrees in Women's Studies and Crime, Law, Justice from The Pennsylvania State University. She also has a minor in Sociology and degree emphases in Violence Against Women; Business; Feminist Pedagogy; and Women, Law, and Policies.
Her experience includes serving as a peer educator while still in college, Safe House Advocate for domestic violence and sexual assault survivors, Community Educator, Care Coordinator/Home Visitor to prevent child abuse and neglect, Adjunct Professor of Criminal Justice, Sexual Violence Education Coordinator at Minnesota State University, Mankato, Executive Director of Crime Victim Services, Inc., Project Coordinator for the Nebraska Victim Assistance Academy (NEVAA), Director of the Violence Intervention and Prevention (VIP) Center at Creighton University for nearly 5 years, and most recently as the Director of the Omaha/Douglas County Victim Assistance Unit with the Douglas County Attorney's Office. She continues to serve as Adjunct Professor of Women's and Gender Studies at the University of Nebraska at Omaha. Lauren is also a featured author on sexual and dating violence in Beyond Burning Bras: Feminist Activism for Everyone as well as The Encyclopedia of Domestic Violence and hopes to publish a book one day.
Lauren lives in Omaha with her wife, Cassandra, their so-ugly-he's-cute hairless dog, and their daughter, Romy. They love to travel, hike, go to concerts, and stay home (even before the pandemic!).